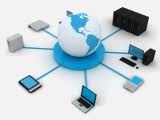 Network connectivity isn't everything anymore. Getting a stable, redundant and secure network is! Presenting AIIPl's Connectivity solutions. Solutions that are not just a step ahead of the pack but superior until the very last mile.

The Last-mile!
In India, the last-mile is the biggest challenge in getting a quality connectivity service. Which is why AIIPL has opted in its own fiber-optic network across major cities. Thus allowing it to offer multiple, dedicated, stable, scalable and redundant last-mile solutions to its customers. Solutions that only a very, very few can offer! These include:
SDH ( E1 – STM)
WiFi
Point-to-point wireless

Network Redundancy : Redundancy in the service provider's core network is also a key element in any connectivity service. Hence, AIIPL has built in multiple levels of redundancy in the core network and all its Points of Presence (PoP):
Dual-core network architecture to protect inter- PoP connectivity
Separate core and access rings on the fiber-optic network
Service-Provider agnostic network:

STM National backbone from multiple providers.
Enhanced User-Experience: Beyond the technical complexities, we work rigorously on enhancing our customer experience. Some of our unique initiatives:
Enhanced SLAs – AIIPL offers one of the best SLAs in India for its connectivity services. Moreover, all SLAs are backed by stringent penalties.
Dedicated Customer Relationship Managers – For all our enterprise customers, we have dedicated Customer Relationship Managers, available 24x7. You can treat them as your personal representative within AIIPL!
Faster Fault Resolution – We have taken away the red tape from our services. By giving direct, personal 24X7 accesses to the engineers who run the network. They have been empowered to resolve the issue quickly and efficiently; rather than merely lodging tickets. The executive who accepts calls, too, is responsible for the fault until it is resolved. Thus, providing you with a single point of accountability, without the buck passing and excuses.
Customized offerings – We keep our customer at the centre of all our product development initiatives. We can even create customized offerings which are tailor-made to meet specific requirements.