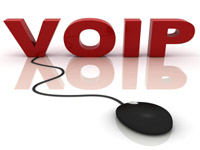 VoIP stands for Voice over Internet protocol, also known as IP telephony. It is set to revolutionize the telecoms industry.
How does it work?
Simply put; VoIP or IP telephony allows a person to make a telephone call over the Internet. As you speak into the handset, your voice is converted into a digital signal which travels over the Internet and upon reaching its destination converts back into a voice signal.
What are the cost benefits?

Flexibility and lower total cost of ownership
Telephones can be moved easily around the office, whereas traditional phones require a site visit by an engineer. VoIP eliminates this need.
VoIP also integrates with your existing computer network (convergence). Instead of having separate contracts for your telephone system and computer network, only one contract is required.
Cheaper phone calls
Calls can be made between remote offices free of charge by sharing the company wide area network (WAN) connection. (Voice calls follow the same path as computer data).
Functionality
Voip/IP telephony provides all the basic functionality of a traditional telephone network plus many EXTRA features – yet at a much lower cost
Anytime, anywhere
Take your business phone number with you where ever you are! For example, you may be abroad on business or on holiday yet a client dialing your office will still be able to reach you at local call rates. (This is almost impossible to achieve with traditional telephony).