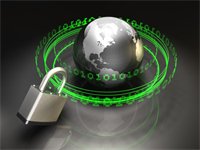 Wi-Fi Solutions offer a range of network security solutions to our clients. Gone are the days when a dedicated firewall is sufficient to protect your business from hackers. Our solutions offer Unified Threat Management (UTM), an emerging trend in network security. Dependent upon the size of your business, systems security must be taken seriously. The cost of virus infection or a lack of protection towards your employees against being exposed to unsuitable Internet material could be astronomic when compared with the cost of installing a UTM firewall device.
We have scalable solutions to meet the needs of many Small to Medium (SME) sized enterprises.

Note that our security solutions complement PC and Server based Anti-Virus and Firewall software, providing protection at the network level. Our equipment is installed between the public facing Internet connection and the wired or wireless local area network.
All our public wireless hot spot installations include our security solutions as standard. This is an area which we take very seriously and will not compromise, especially the content filtering preventative measure which we include in our package.
Other value added benefits included with our security devices include dial-back up and traffic redirect.

With our solutions we offer full support, monitoring and reporting services. Highlighting potential threats that have been blocked, reporting bandwidth usage and sites blocked by the content filtering system. This service complements our managed ADSL services discussed in the Telephony and Data Communications page of our web site.